The Volvo XC60 Cargo Space At Volvo Cars Of Cary

New Volvo SUVs XC60 For Sale
The new Volvo XC60 is an all-around amazing mild-hybrid SUV that provides plenty of room and comfort for both passengers and gear. The Volvo XC60 interior is beautifully designed with versatility and efficiency in mind. Whether you are making use of the available Graphical Head-Up Display, which can project navigation instructions and other information you feel is important onto your lower windshield, or utilizing the individually foldable rear seats to make more room for furniture or a big grocery haul, the Volvo XC60 can adapt to your needs.
We are going to focus more on its cargo capabilities on this page. Once you are satisfied looking at all the numbers, we invite you to see its size and capabilities for yourself at Volvo Cars of Cary near Raleigh.
The Volvo XC60 Dimensions & Cargo Space
The Volvo XC60 for sale is classified as a midsize SUV, as it measures 185.4 inches long, 78.7 inches wide without mirrors, and 65.3 inches long. This puts it between the compact Volvo XC40, which also seats up to five passengers, and the Volvo XC90, which is a three-row SUV.
While some people turn to the Volvo XC40 because they want a smaller vehicle that is capable of snagging tight parking spaces, the Volvo XC60 offers more cargo room. When the second-row seats are in use, there are 22.4 cubic feet of space.
However, if you don't have passengers in the back row, you have even more storage room available to you. The maximum Volvo XC60 cargo space is 63.3 cubic feet, with the rear seats folded. Since the seats are designed to lie flat with no lip, it's also very easy to load or unload your vehicle, especially if you also take advantage of the available hands-free liftgate that uses sensors to know when to open the back area up when you kick your foot under the rear bumper.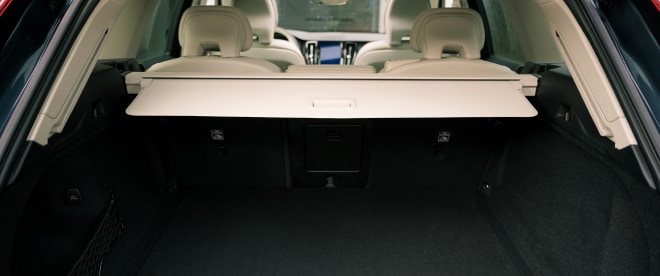 What Can You Do With the Volvo XC60 Trunk Dimensions?
Volvo automakers estimate that the 22.4 cubic foot cargo area is enough room to house four suitcases, so long as those suitcases measure between 27-31 inches long, 10-11 inches wide, and 21-22 inches tall. It is certainly enough room for a healthy amount of groceries.
Fold down the rear seats, and your cargo area becomes 68.8 inches long and 30.6 inches tall. Its width varies, but it is 41.5 inches between the wheel wells. All told, this amounts to 63.3 cubic feet.
This means that you can use your Volvo XC60 cargo space for all sorts of equipment. For example, gear like an average-size golf bag measures 50 inches tall and 10 inches wide, so with the rear seats of your Volvo XC60 folded down, you'd be able to fit three or more positioned side-by-side. Bar stools are usually 28 to 33 inches high to the seat, meaning you could fit several of them in your SUV as well. Additionally, you could load up the back area with boxes to help your teenager move into her dorm room or haul plastic containers to a storage unit.
If this doesn't seem like enough space, this SUV is capable of towing up to 3,500 pounds when properly equipped, meaning you can bring a trailer along for extra room. Should you take advantage of one of our Volvo XC60 lease deals and decide you want more space for either passengers or cargo when your 36 months are up, you can also easily switch to a Volvo XC90.
General info on XC60
Seats
5
Front Headroom
38"
Front Legroom
41.5"
Second Row Headroom
38"
Second Row Legroom
38"
Trunk Capacity
22.4 cu ft.
Trunk w/ Rear Seats Down
63.3 cu ft.
What Amenities Are in the Volvo XC60 Interior?

Not only does the Volvo XC60 provide a ton of space, but it also gives you a luxurious and beautiful interior to enjoy. Passengers get plush seating and sit with 41.5 inches of front legroom and 38 inches of second-row legroom.
Standard features on the interior include a 9-inch touch-screen display, Apple CarPlay® integration, Android Auto™ compatibility, a panoramic sunroof, dual-zone automatic climate control, a 12-inch instrument panel, cruise control, oncoming lane mitigation, and much more. Upper-level trims can have ventilated Nappa leather upholstery, heated front seats, a 360-degree camera, a four-zone climate system, a Graphical Head-Up display, and a Harman Kardon® premium sound system.
Frequently Asked Questions About the Volvo XC60 Cargo Space
How big is the trunk on a Volvo XC60?
The Volvo XC60 offers 22.4 cubic feet of cargo space behind its second row. However, you can easily increase the size of the storage space available to you by folding down the second-row seats. Then, you'll have 63.3 cubic feet to fill with your sports equipment, landscaping supplies, or boxes. The available hands-free power liftgate can make loading and unloading even more simple.
Which Volvo vehicle has the biggest cargo space?
Technically, the Volvo XC60 has the largest trunk space. The larger Volvo XC90 provides 15.8 cubic feet of storage room behind its third row. However, folding that third row increases its capacity to 65.5 cubic feet while still seating up to five. You can also fold its second row to get a total of 85.7 cubic feet, while the maximum in the Volvo XC60 is 63.3.
Does the Volvo XC60 have third-row seating?
No, the Volvo XC60 is a two-row, midsize SUV that seats up to five people, but it does so spaciously. For a Volvo SUV with a third row, you will have to turn to the Volvo XC90 or its plug-in hybrid variant, the Volvo XC90 Recharge. There will also soon be the Volvo EX90, an all-electric three-row SUV.
The Volvo XC60 Is Waiting
It's time to get yourself an SUV that can do it all at our Volvo dealer near Raleigh. There is so much more to learn about this wonderful SUV, and our team can't wait to share it with you. If you have any more questions or want to set up a test drive, please feel free to contact us today. We're confident you'll love the Volvo XC60 as much as we do!
Volvo Model Research In Cary, NC
---
Make an Inquiry
* Indicates a required field