New Volvo SUVs XC60 For Sale
The new Volvo XC60 for sale is an all-around amazing SUV. Although it may be classified as a small SUV, the Volvo XC60 cargo space provides plenty of room and comfort for both passengers and gear. The Volvo XC60 interior is not only beautifully designed, but she was also designed with versatility and efficiency in mind. Whether you are making use of your plush, leather Volvo seats or you fold down the back row to make more room for furniture or a big grocery haul, the Volvo XC60 can adapt to what you need her to be. Read on to learn more about the Volvo XC60 cargo space, and then come see one for yourself at our dealership near Raleigh.
The Volvo XC60 Cargo Space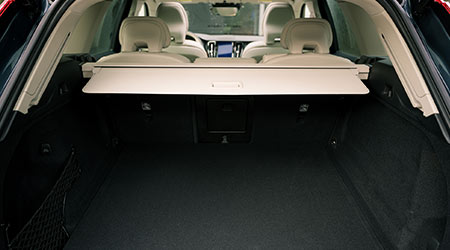 The Volvo XC60 seating capacity, like the Volvo XC40, is five people. However, unlike the Volvo XC40, the Volvo XC60 uses her extra room to provide more trunk and cargo space. If your car is full with all five passengers, you can still get an incredible 22.4 cubic feet of trunk space. This is a huge trunk that allows you to pack for road trips, transport furniture, or do anything else with your Volvo XC40.
If you don't have passengers in the back row, you can get even more room. The Volvo XC60 cargo space dimensions have a maximum of 63.3 cubic feet when the rear seats are folded. You will be hard-pressed to find a luxury SUV with more availability than the Volvo XC60 cargo space. If you don't have a need for a seating capacity of more than five seats, our Volvo XC60 lease deals are a wonderful way to get a small SUV with a ton of extra room.
The Volvo XC60 Interior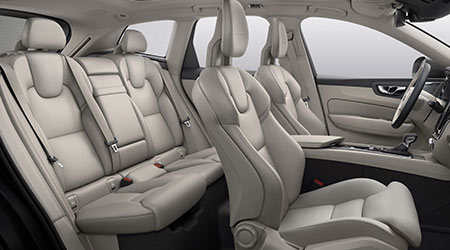 Not only does the Volvo XC60 provide a ton of space, but she also gives you a luxurious and beautiful interior to enjoy. The Volvo XC60 has one of the most stylish and top-notch interiors in the automotive sector. Passengers will enjoy comfortable, plush seating and sit with plenty of head and legroom. There are high-quality materials throughout the cabin that make this SUV shine, including standard leather upholstery.
Standard features on the interior include a 9" touchscreen display, Apple CarPlay®, Android Auto™, a Sensus infotainment system, satellite radio, a 10-speaker sound system, a panoramic sunroof, dual-zone automatic climate control, and much more. We won't blame you if you decide to stay in your vehicle longer when you get home at the end of the day!
Frequently Asked Questions About the Volvo XC60 Cargo Space
How big is the boot on a Volvo XC60?
The boot, or trunk, offers 22.4 cubic feet of cargo space. It is nearly impossible to find a luxury SUV (or any SUV at all) with more trunk space than the Volvo XC60. The interior has plenty of compartments and legroom for storage as well.
Which Volvo vehicle has the biggest boot space?
Technically, the Volvo XC60 has the biggest amount of trunk space. The larger Volvo XC90 provides only 15.8 cubic feet of trunk space. However, the Volvo XC90 provides a bigger maximum cargo capacity. When you fold both back rows in the Volvo XC90, you can get a total of 85.7 cubic feet of space, while the maximum in the Volvo XC60 is 63.3 cubic feet. Your choice will depend on whether you are looking for more overall cargo space or prefer to just have a big trunk space. What the Volvo XC60 lacks in third-row seating, she makes up for in trunk capacity.
Does the Volvo XC60 have third-row seating?
The Volvo XC60 does not have third-row seating. The Volvo XC60 only seats five people but does so extremely spaciously. The only Volvo SUV with three rows is the largest Volvo XC90. The Volvo XC90 can seat up to seven passengers.
The Volvo XC60 Is Waiting
It's time to get yourself an SUV that can do it all at a Volvo dealer near Raleigh that can do it all too. There is so much more to learn about this wonderful SUV, and our team can't wait to share it with you. If you have any more questions or want to set up a test drive, please feel free to contact our dealership today. We know you will love the Volvo XC60 as much as we do!
---