2023 Volvo XC90 Launch: Configurations, Engine, Interior

Shop Volvo XC90 Inventory
The 2023 Volvo XC90 is a muscular, efficient, and comfortable three-row luxury SUV that offers excellent value for your hard-earned money. The vehicle is available as a mild or plug-in hybrid, both of which offer savings at the pump. It's big enough to fit your entire family and comes standard with a compelling suite of safety features that help you stay safe on the roads in Cary, NC.
2023 Volvo XC90 Configurations and Specs
There are three different 2023 Volvo XC90 configurations from which to choose. The entry-level option is the B5 AWD powertrain. It pairs a turbocharged 2.0-liter four-cylinder engine with a 48-volt mild-hybrid battery-and-motor system to make 247 horsepower and 258 pound-feet of torque. This version of the 2023 Volvo XC90 can jump from 0 to 60 in 7.3 seconds.
The other mild-hybrid option is the B6 AWD powertrain. It adds a supercharger to the configuration described above, bringing the horsepower total to 295 and the torque output to 310 pound-feet. It leaps from 0 to 60 in just 6.4 seconds. For such a large SUV, these are great acceleration numbers. The mild hybrid systems on these vehicles do not need to be recharged externally; you'll simply have to ensure the car has enough gasoline.
The last configuration among the 2023 Volvo XC90 specs is the plug-in hybrid T8 eAWD powertrain. It pairs a turbocharged and supercharged 2.0-liter engine with an 18.8-kWh battery-and-motor system to make 455 horsepower and 523 pound-feet of torque. It hits 60 from 0 in just five seconds and scores an EPA-estimated 58 MPGe (Combined).1 No matter which 2023 Volvo XC90 engine you choose, you'll enjoy performance and savings.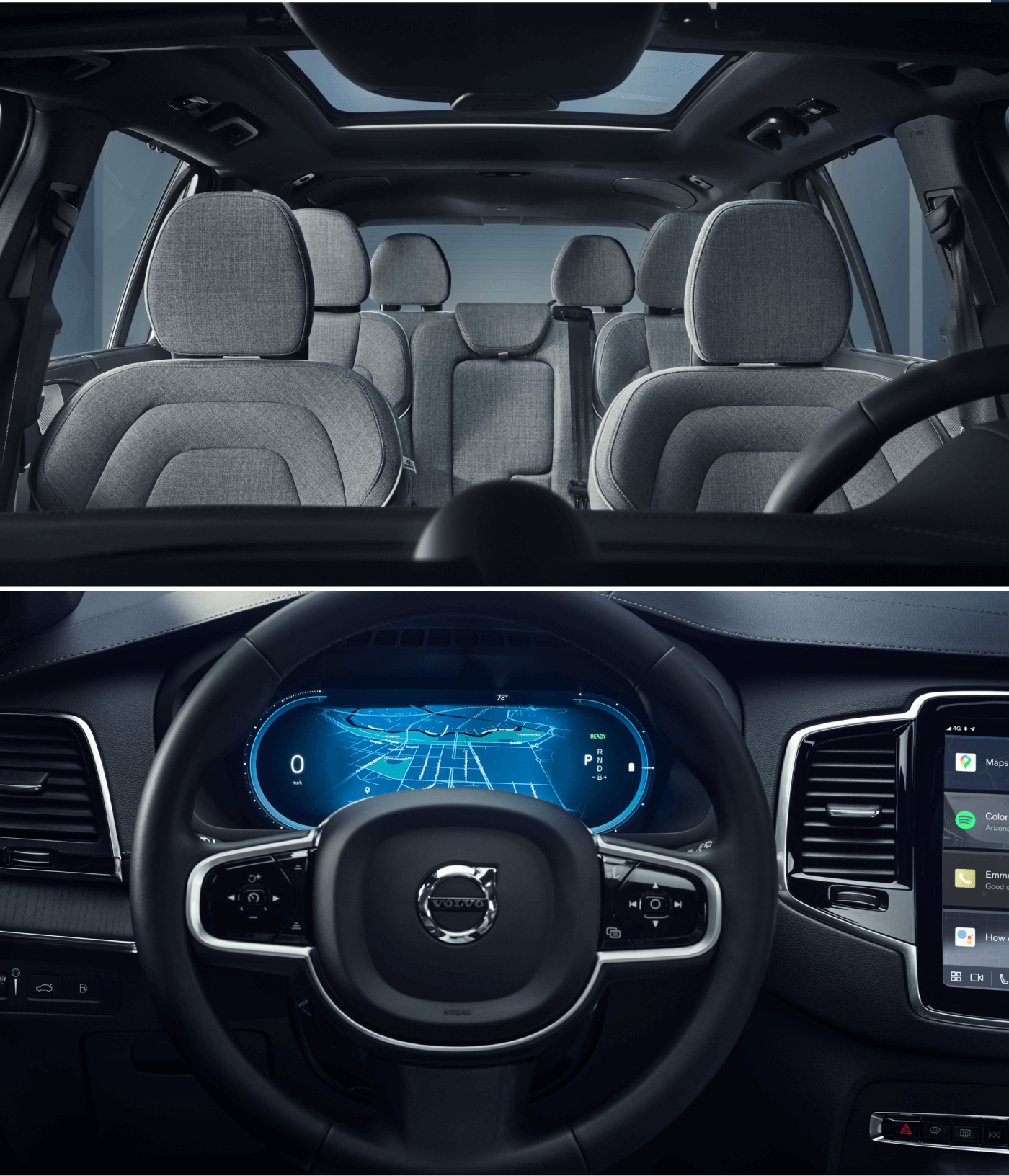 2023 Volvo XC90 Interior
The cabin of the 2023 Volvo XC90 is spacious and refined. Every model features beautiful interior decor. The entry-level trim of this vehicle is the Volvo XC90 Core. It boasts leatherette upholstery, Iron Ore aluminum interior accents, and a four-zone climate control system with an air purifier. It comes standard with the B5 AWD powertrain, but the B6 AWD is an available option.
The mid-tier trim is the Volvo XC90 Plus. This model enjoys leather upholstery and genuine wood interior decor, lending it an aura of true refinement. The Volvo XC90 can seat six or seven people, depending on your selected seating configuration. The six-seat model has a pair of captain's chairs in the second row in place of the standard bench seat. A 2023 Volvo XC90 B6 Plus 7-seater is a great option for drivers with large families.
The most luxurious 2023 Volvo XC90 interior is found on the Volvo XC90 Ultimate. This trim boasts ventilated front seats, Nappa leather upholstery, and a premium sound system. If you select this model, you and your passengers will be bathing in luxurious sound. It also features the Volvo Graphical Head-Up Display, which projects navigation information directly onto the bottom of your windshield. The future is now, and the Volvo XC90 is at its forefront.
2023 Volvo XC90 Colors
The 2023 Volvo XC90 is available in seven colors. This wide range of options offers drivers in Cary, NC, choices regarding the appearance of their vehicle. The Volvo XC90 colors are:
Onyx Black
Thunder Grey
Denim Blue
Platinum Grey
Silver Dawn
Crystal White
Bright Dusk
The 2023 Volvo XC90 colors offer something for everyone. Whether you want to be the center of attention or to glide by unnoticed, there is a fantastic choice for you in this lineup of colors. You can also customize the interior of your vehicle. The 2023 Volvo XC90 interior colors are remarkable, ranging from charcoal to blond.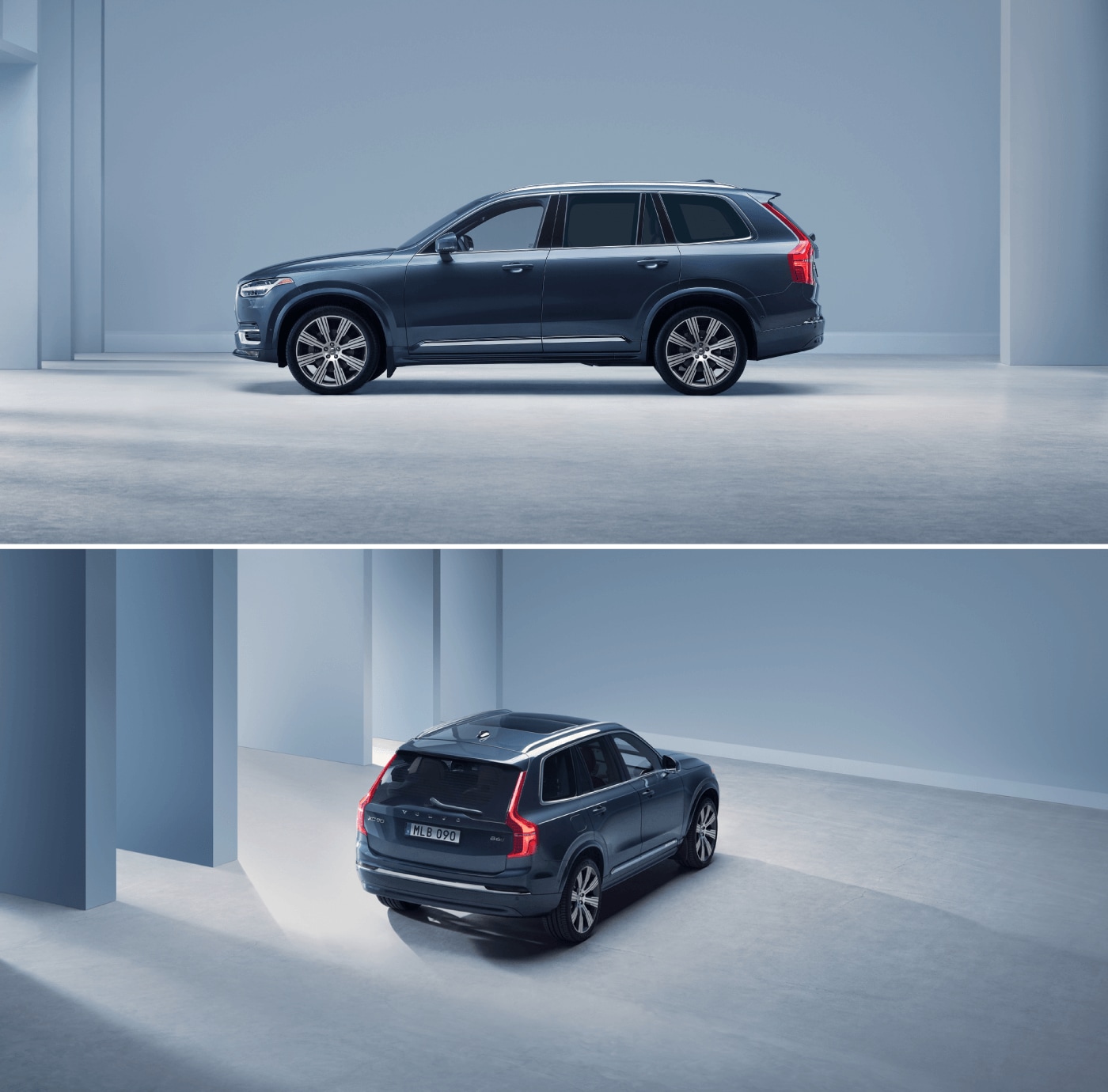 Start Driving a 2023 Volvo XC90 Today
We make it easy to get behind the wheel of a 2023 Volvo XC90 for sale. Our team is always happy to see folks leave our store in a new vehicle, so we offer Volvo XC90 lease deals in addition to low-rate financing packages for qualifying drivers.
Our dealership is full-service, so we can also help you with your Volvo XC90 maintenance needs. Visit us in Cary, NC, today to test drive the bold new 2023 Volvo XC90.
Frequently Asked Questions
What are the different configurations for the 2023 Volvo XC90?
The Volvo XC90 can be had in numerous different configurations. You can choose from the B5 or B6 mild hybrid powertrains as well as the Core, Plus, and Ultimate trim levels. You can also find this vehicle as a plug-in hybrid, which also comes in Core, Plus, and Ultimate trim levels. This allows you to mix and match performance and luxuries to create the perfect ride for your family.
Does the Volvo XC90 have 7 seats?
The new 2023 Volvo XC90 can be purchased as a six-seat or seven-seat vehicle. The six-seat version has two captain's chairs in the second row, as opposed to the bench found in the seven-seat model. Both configurations have spacious and luxurious interiors with features like heated front seats. Visit us today to explore them for yourself.
Leave A Review Of The 2023 Volvo XC90:
"I bought a new XC90 from this dealership recently, and it was the easiest buying experience that I have ever had buying from a dealer. I worked with Arek, whom made the experience pleasant and worked with me to find what I wanted. I drove out of the way several times to keep working with him. Highly recommend him and this dealership!" 5 stars, review by Randy M
Leave A Review
* Indicates a required field
---
1This is a hybrid plug in vehicle. Since electricity is not measured in gallons, a conversion factor is used to translate the fuel economy into miles per gallon of gasoline equivalent (MPGe). Use for comparison purposes only. Your MPGe will vary for many reasons, including but not limited to, driving conditions, how and where you drive, how you maintain your vehicle battery-package/condition, and other factors. For more information, including information on MPGe, see www.fueleconomy.gov