2023 Volvo XC60 Launch: Configurations, Engine, Interior

Shop Volvo XC60 Inventory
The 2023 Volvo XC60 is a sleek and muscular SUV that offers luxury and performance. The 2023 model year has brought several changes to the entire Volvo Cars lineup, including introducing mild hybrid technology to vehicles that used to have gasoline-only powertrain options. Every version of the 2023 Volvo XC60 offers incredible fuel economy to drivers in Cary, NC.
2023 Volvo XC60 Configurations and Specs
There are two mild-hybrid 2023 Volvo XC60 engine options in addition to the plug-in hybrid powertrain found on the Volvo XC60 Recharge. The entry-level choice is the B5 powertrain, which is made up of a turbocharged 2.0-liter four-cylinder engine and a 12-volt battery-and-motor system. This configuration outputs 247 horsepower and 258 pound-feet of torque and comes with AWD.
You can opt for the B6 AWD setup. This latter powertrain adds a supercharger to the B5 configuration, bringing the horsepower up to 295 and the torque to 310 pound-feet. It comes with all-wheel drive and can rocket you from 0 to 60 in just 5.9 seconds. Both of these fuel-efficient options get great gas mileage ratings. The B5 AWD powertrain scores an EPA-estimated 23/29/25 MPG (City/Highway/Combined),1 and the B6 AWD gets an EPA-estimated 21/27/23 MPG (City/Highway/Combined).1
The 2023 Volvo XC60 Recharge is a plug-in hybrid SUV with incredible performance specs. It uses a turbocharged and supercharged 2.0-liter four-cylinder engine and an 18.8-kWh battery-and-motor system to produce 455 horsepower and 523 pound-feet of torque. The Volvo XC60 Recharge can leap from 0 to 60 in just 4.5 seconds – your passengers will be floored by the raw power of this machine. It also boasts an EPA-estimated 63 MPGe (Combined).2
All of these 2023 Volvo XC60 configurations offer sporty performance and the efficiency you need to save at the pump. Of course, the Volvo XC60 Recharge is especially fuel-efficient and can also drive without using a drop of gasoline in its all-electric Pure Mode. The Volvo XC60 towing capacity is sufficient to bring the family jet ski or ATV on your next weekend adventure. Now that we've tackled the 2023 Volvo XC60 specs, we'll turn to the car's sleek cabin.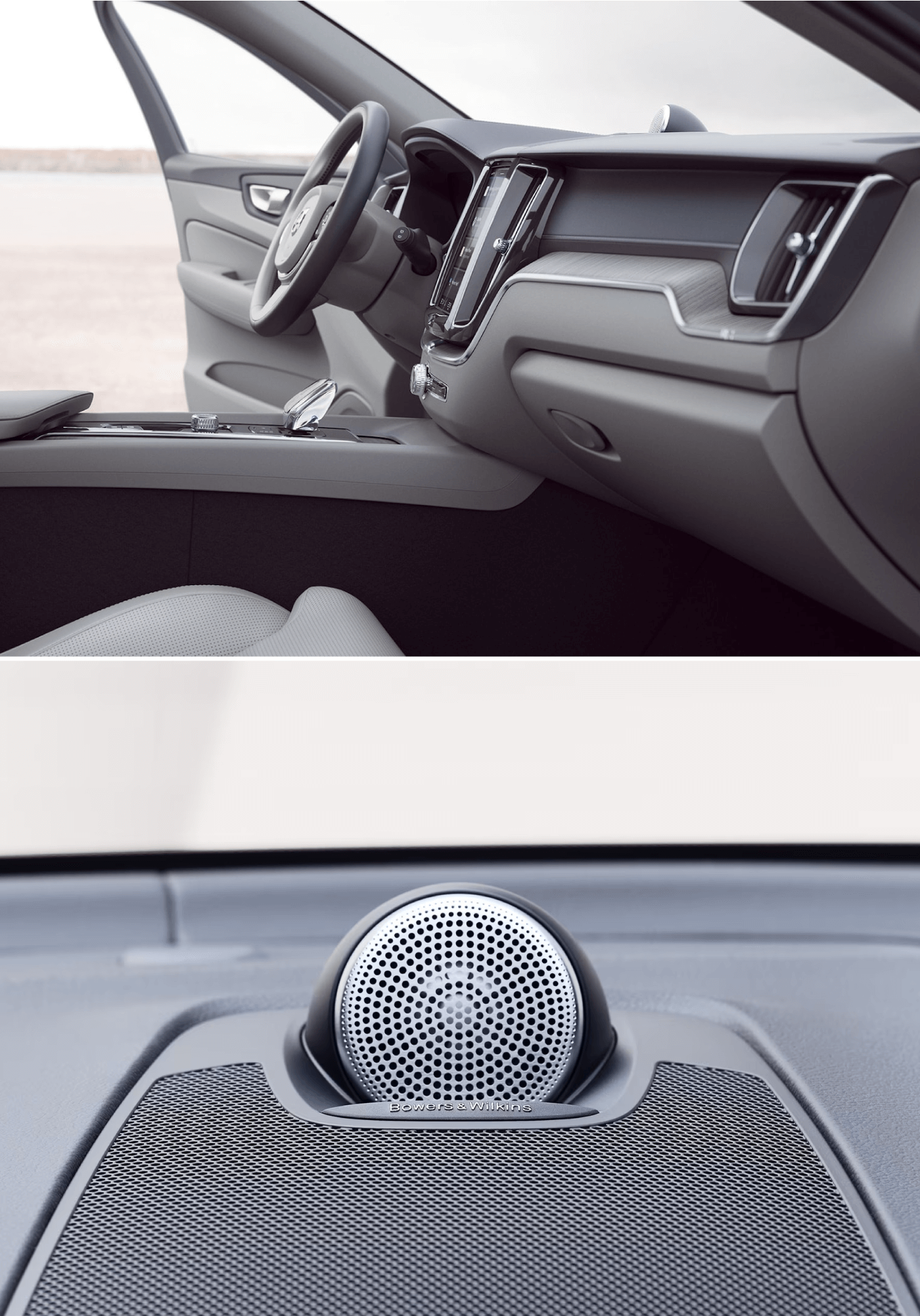 2023 Volvo XC60 Interior
The cabin of the 2023 Volvo XC60 is rife with creature comforts and refinement. The entry-level 2023 Volvo XC60 Core comes standard with your choice of textile or leatherette upholstery, internal aluminum decor, powered front-row seats, and a two-zone climate control system. It also boasts a 12-inch digital instrument display and a 9-inch touch screen for controlling music and navigation.
The mid-tier Plus trim offers leather upholstery and real lime wood interior accents. These two luxury materials add an extra layer of elegance to the inside of this already impressive vehicle. The 2023 Volvo XC60 Plus also enjoys additional safety features, including a 360-degree view camera and adaptive cruise control.
The top-tier (for the mild hybrid) Ultimate trim boasts Nappa leather upholstery, front seat ventilation, four-zone climate control, and the Graphical Head-Up Display. This last feature projects navigation directions and other vehicle details onto the bottom of your windshield. You can keep your eyes on the road without losing track of your path.
The Volvo XC90 Recharge also has its own Core, Plus, and Ultimate trims that offer similar features to what is discussed above. However, there is a fourth trim level available for the plug-in hybrid. The Polestar Engineered version of the vehicle rides on a customized chassis and boasts specialized brakes.
Every version of the 2023 Volvo XC60 interior is rich with features and luxury appointments. The Volvo XC60 cargo space is also expansive, making it an excellent choice for families in Cary, NC.
2023 Volvo XC60 Colors
You can choose one of nine colors for the exterior of your new 2023 Volvo XC60. Not every color is available on every configuration; please contact us for details. The nine options are:
Black Stone
Denim Blue
Onyx Black
Fusion Red
Thunder Grey
Platinum Grey
Bright Dusk
Silver Dawn
Crystal White
These 2023 Volvo XC60 colors include something for everyone. The dark hues are great for folks who like to go about their lives outside the limelight, while other shades – like Fusion Red – are ideal for people who enjoy being the center of attention. No matter your preferences, Volvo Cars has you covered. The 2023 Volvo XC60 interior colors are just as vibrant as the exterior hue options. You'll find charcoal, amber, maroon brown, and blond options within the Volvo XC60 lineup.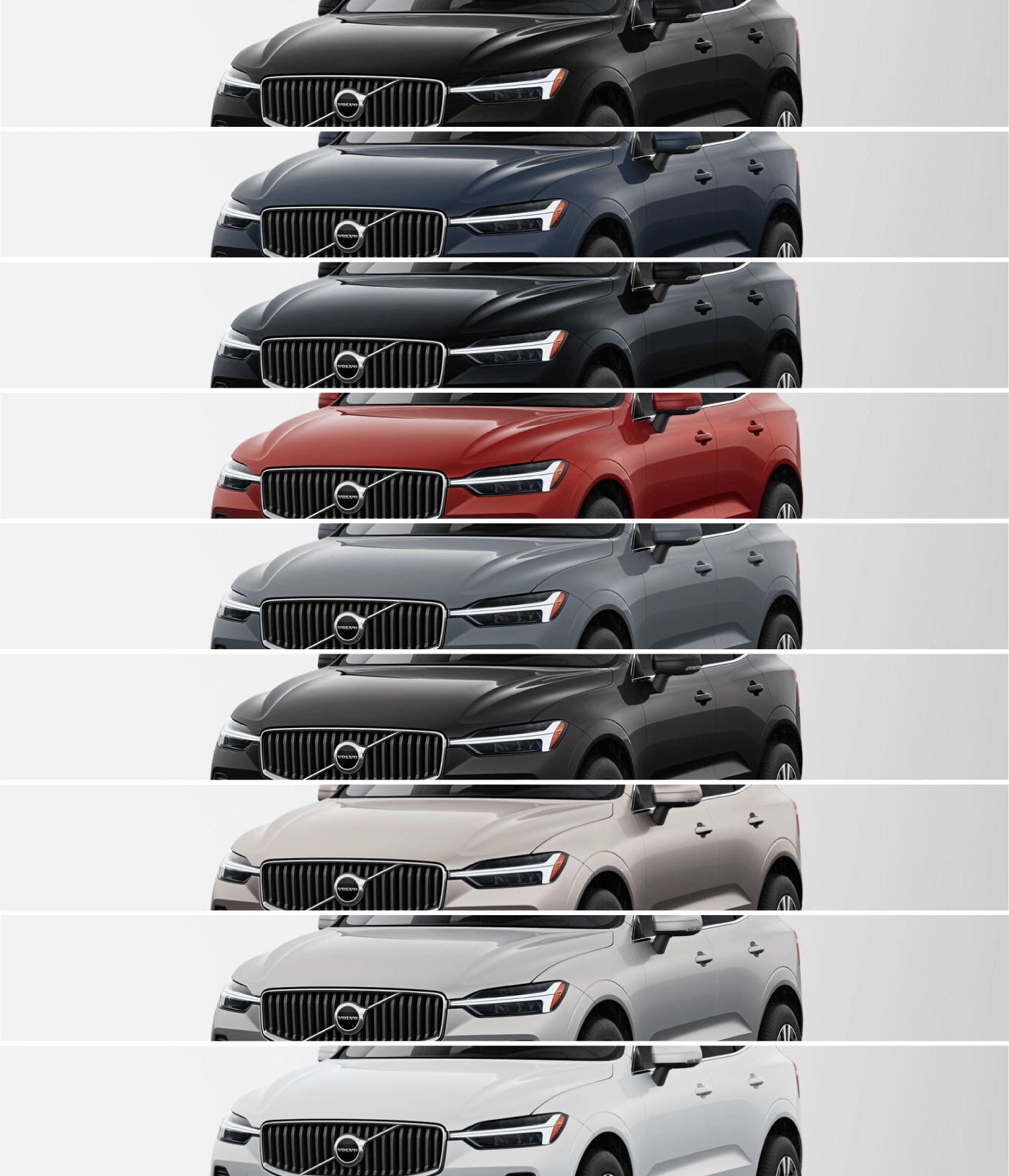 2023 Volvo XC60 Review
The 2023 Volvo XC60 is an excellent option for drivers in Cary, NC. The Volvo XC60 hybrid MPG offers incredible savings on fuel, whether you opt for the mild or plug-in hybrid. If you want to learn more about the latter, check out our Volvo XC60 hybrid comparison.
As a Volvo dealer near Apex, NC, we are proud to offer this vehicle to our customers. The Volvo XC60 is rich with features, performance potential, and refined Scandinavian style. Our team works hard to provide low-rate financing to qualifying customers. We all look forward to working with you soon.
Thank you for reading our 2023 Volvo XC60 review. This vehicle is a great choice for families and adventurers alike. With a wide variety of available configurations and options, you can customize this luxury SUV to your needs and preferences. Visit us today for a 2023 Volvo XC60 test drive.
Frequently Asked Questions
What engine types does the 2023 Volvo XC60 have?
The new Volvo XC60 has three engines available for drivers. Two of them are mild hybrids, and the third is a plug-in hybrid. The mild hybrids offer strong fuel economy and convenience, as they do not need to be externally recharged. The plug-in hybrid offers even better gas mileage, but it does need to be externally charged to function.
Does the 2023 Volvo XC60 require premium gas?
The new Volvo XC60 does not require premium fuel. Volvo Cars recommends it because it offers better performance, but using 87-octane gasoline will not damage your vehicle. During this time of high gas prices, this flexibility is certainly a boon to drivers. If you want to tear up a track, however, then premium fuel is the way to go.
Leave A Review Of The 2023 Volvo XC60
"We worked with Tamas to order our 2023 XC60. We visited several other dealers in the area and were disappointed in the level of service- Tamas, at Volvo, went above and beyond to listen to our wants and make it happen. He was incredibly knowledgable about the brand and made us feel comfortable throughout the entire process. We highly recommend him for anyone looking for a new car!" 5 stars, review by Meagan Mulcahy
---
1For more information, please visit the official US government source for all fuel economy at www.fueleconomy.gov.
2This is a hybrid plug in vehicle. Since electricity is not measured in gallons, a conversion factor is used to translate the fuel economy into miles per gallon of gasoline equivalent (MPGe). Use for comparison purposes only. Your MPGe will vary for many reasons, including but not limited to, driving conditions, how and where you drive, how you maintain your vehicle battery-package/condition, and other factors. For more information, including information on MPGe, see www.fueleconomy.gov