2023 Volvo S60 Launch: Configurations, Engine, Interior

The 2023 Volvo S60 is a sleek and muscular sedan. The vehicle also achieves great fuel economy numbers and has a luxurious interior that you will enjoy spending time in. In a phrase, this executive sedan can do it all. We are going to examine the 2023 Volvo S60 performance, cabin, and color options to help drivers in Cary, NC, decide if this is the right vehicle for them and their families.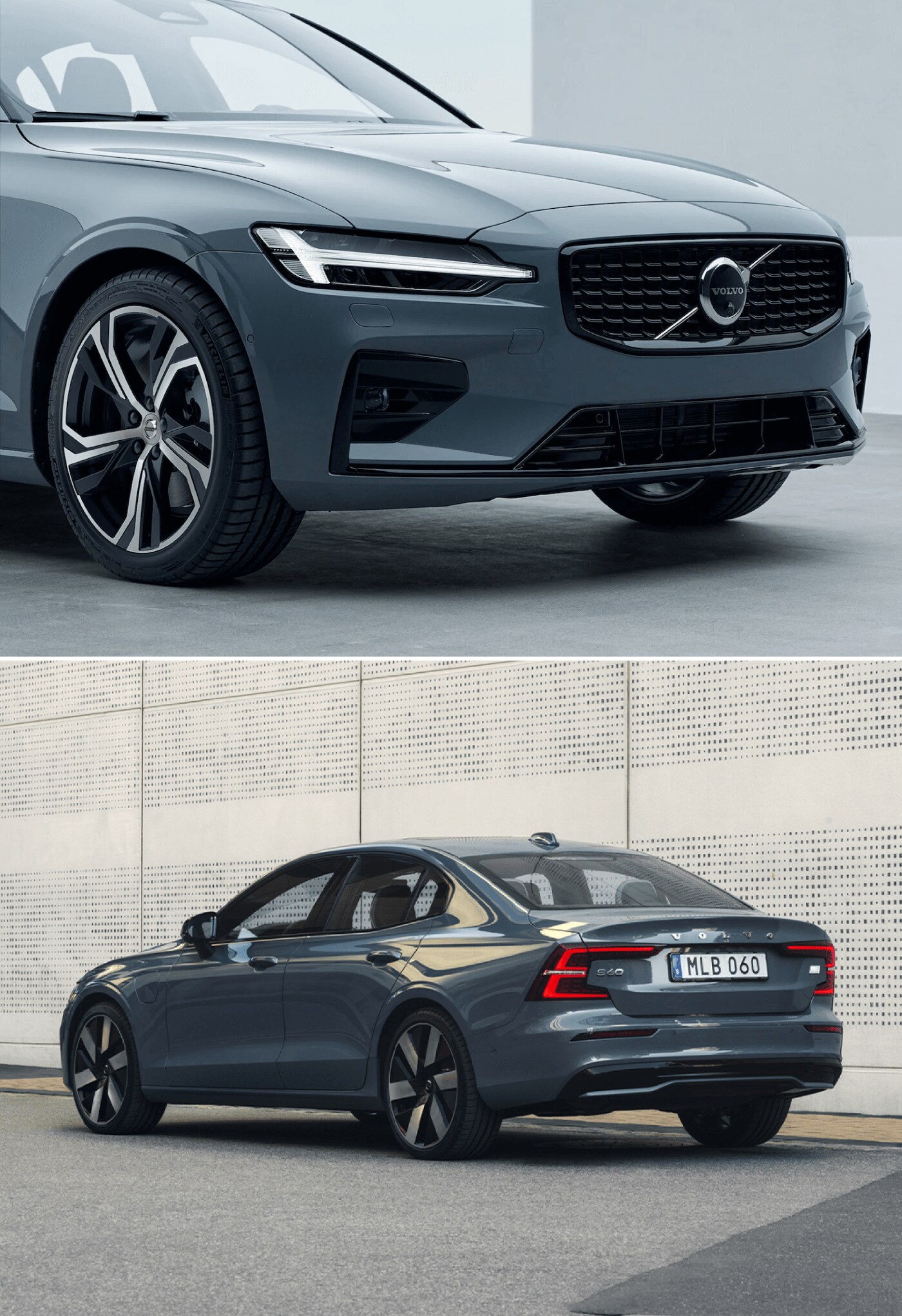 2023 Volvo S60 Configurations and Specs
The 2023 Volvo S60 is available as a mild or plug-in hybrid. The core difference between these two configurations is that the plug-in hybrid model, the 2023 Volvo S60 Recharge, needs to be externally recharged to achieve its peak efficiency. The mild hybrid does not. On the flip side, however, the plug-in hybrid offers the most competitive fuel economy rating. Volvo Cars leaves it to drivers to decide which way to go.
The entry-level 2023 Volvo S60 engine is the turbocharged 2.0-liter four-cylinder that is found mated to a mild hybrid battery and motor system on the B5 FWD powertrain. This setup gets 247 horsepower and 258 pound-feet of torque. A 2023 Volvo S60 B5 FWD gets an EPA-estimated 26/35/30 MPG (City/Highway/Combined).1
The other mild-hybrid option among the 2023 Volvo S60 configurations is the B5 AWD powertrain. As the name implies, it keeps the engine and hybrid setup of the B5 FWD powertrain but adds all-wheel drive. A 2023 Volvo S60 B5 AWD gets the same horsepower and torque as the front-wheel drive model but earns an EPA-estimated 25/33/28 MPG (City/Highway/Combined).1
The plug-in hybrid version of the 2023 Volvo S60, the Volvo S60 Recharge, uses the T8 eAWD powertrain. It pairs a turbocharged and supercharged 2.0-liter four-cylinder engine with a powerful battery-and-motor plug-in hybrid architecture to output 455 horsepower and 523 pound-feet of torque. This impressive sedan gets an EPA-estimated 74 MPGe (Combined).2 The 2023 Volvo S60 specs are impressive, no matter which powertrain you select.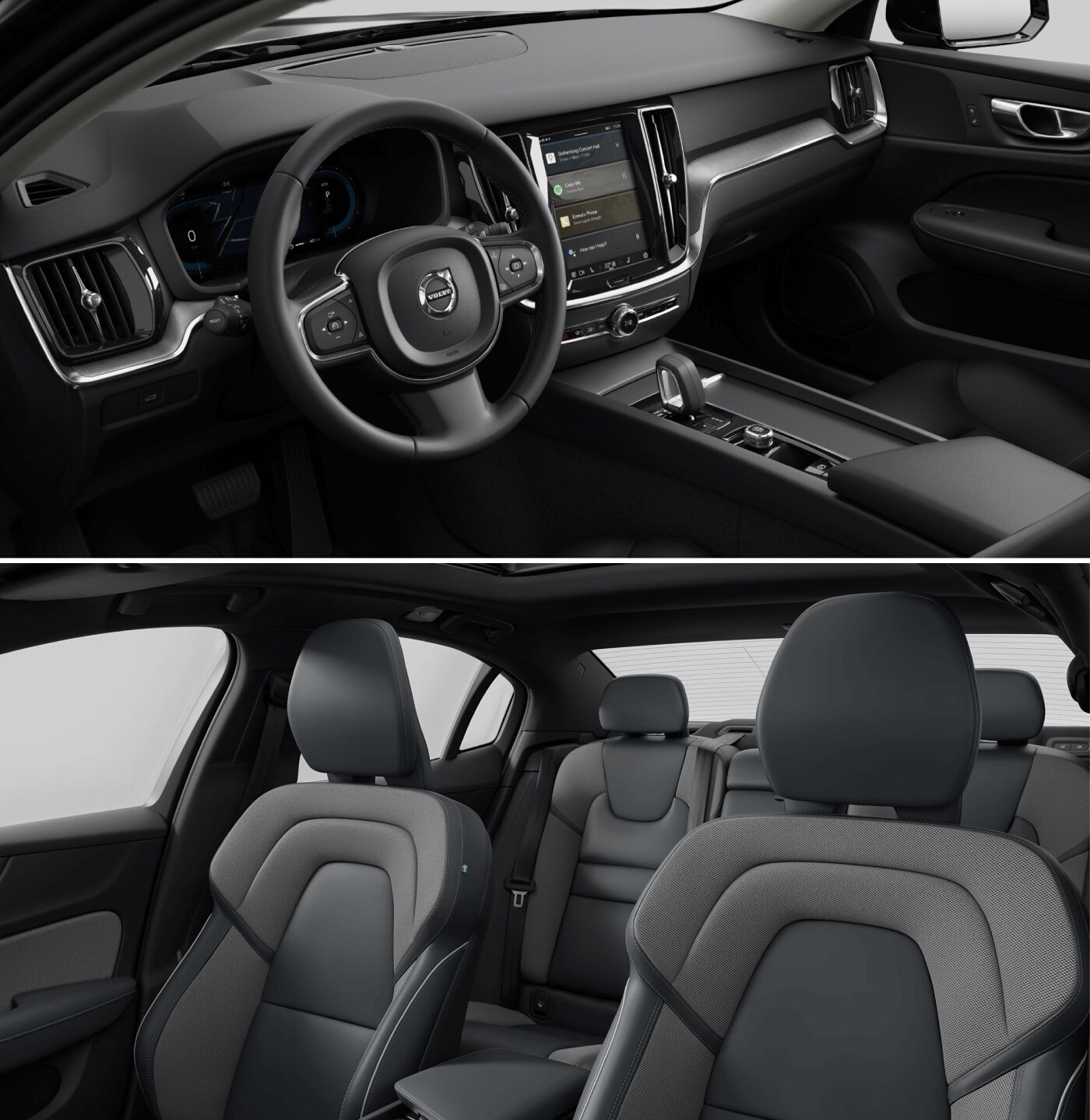 2023 Volvo S60 Interior
The Volvo S60 has sporty powertrain options that are nicely complimented by its refined and comfortable interior. The base model of the vehicle comes equipped with your choice of leatherette or textile upholstery, a 10-speaker sound system, and warm interior illumination that makes the car feel welcoming. Things only get better as we check out the other trim options.
The 2023 Volvo S60 interior gets leather upholstery and genuine wood interior decor when one upgrades to the mid-tier Plus model. The Ultimate version adds even more goodies, including four-zone climate control and a 14-speaker sound system. Every version of the 2023 Volvo S60 is well-equipped for short jaunts in Cary, NC, and for longer trips.
The 2023 Volvo S60 trunk space is sufficient for a load of groceries or for holding your luggage when you go to visit family. With 11.6 cubic feet of space, you will be able to pack plenty of gear in the boot of your new luxury SUV.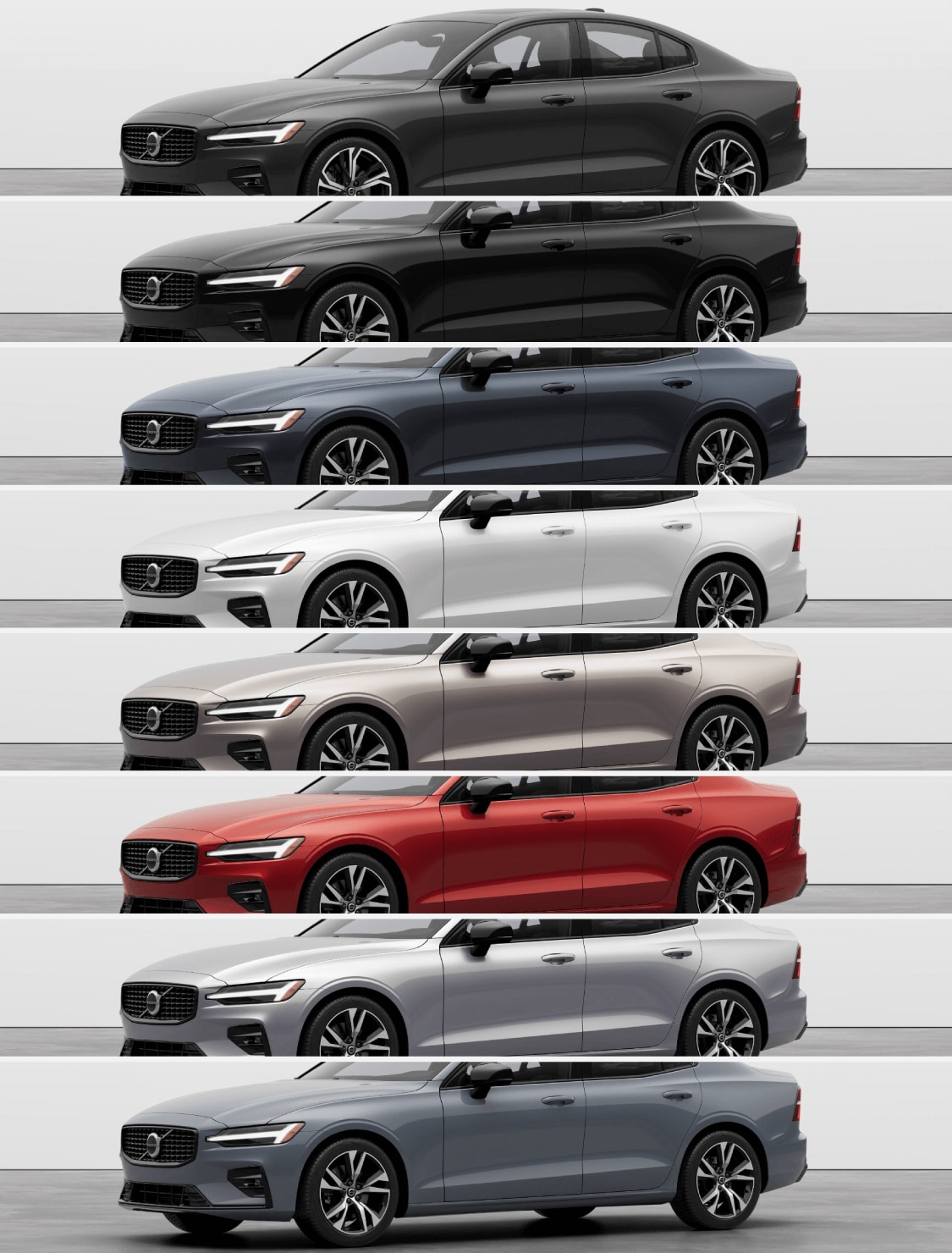 2023 Volvo S60 Colors
There are eight 2023 Volvo S60 colors for you to consider when choosing your new luxury sedan's exterior paint job. The options are:
Platinum Grey
Black Stone
Denim Blue
Crystal White
Bright Dusk
Fusion Red
Silver Dawn
Thunder Grey
With this compelling range of options to choose from, the Volvo S60 can be customized to suit your preferences. It is worth noting that the Recharge model of the 2023 Volvo S60 is only available in Crystal White, Silver Dawn, Black Stone, and Thunder Grey. The 2023 Volvo S60 interior colors vary by trim and model, ranging from sleek charcoal black to maroon brown. Visit us in Cary, NC, to check out the different cabin color choices.
Start Driving a 2023 Volvo S60 Today
As a Volvo dealer in North Carolina, we are thrilled to offer the new Volvo S60 for sale. Our team works hard to provide low-rate financing options to qualifying drivers. Visit us today to test drive the bold new 2023 Volvo S60 in Cary, NC.
Featured Review
"I recently purchased a new Volvo S60 from Volvo Cars of Cary. The service and dedication to the customer is outstanding and just over the top! My sales person was Tamas Vecsi. He was very attentive and knew exactly the car I wanted! I can't say enough for how exceptional Tamas' help was in picking out my car, and getting my paperwork done in a very timely and efficient manner. I am extremely pleased with my Volvo, and very impressed with the service I received at the dealership in Cary."
review by Troy Lockamy ⭐ ⭐ ⭐ ⭐ ⭐
---
1For more information, please visit the official US government source for all fuel economy at www.fueleconomy.gov.
2This is a hybrid plug in vehicle. Since electricity is not measured in gallons, a conversion factor is used to translate the fuel economy into miles per gallon of gasoline equivalent (MPGe). Use for comparison purposes only. Your MPGe will vary for many reasons, including but not limited to, driving conditions, how and where you drive, how you maintain your vehicle battery-package/condition, and other factors. For more information, including information on MPGe, see www.fueleconomy.gov